Exhibition of paintings by Pavol Magda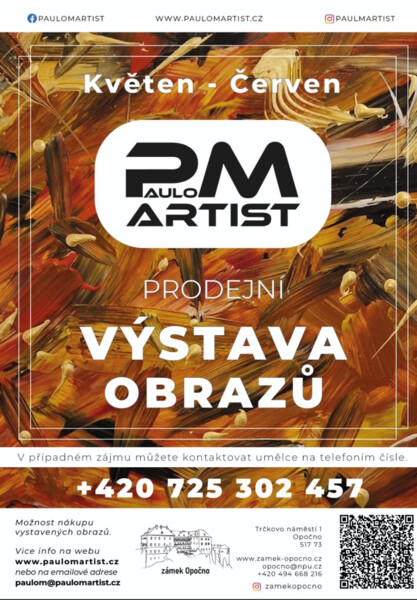 We cordially invite you to a part of the former chateau kitchen of the Opočno chateau for a painting exhibition.

"Hi, my name is Pavel, I was born in 1980 and I come from eastern Slovakia, not far from the Slovak Tatra Mountains.
I am engaged in painting with acrylic paints on canvas. In the beginning my work was mainly about flowers, meadows, landscapes, sea. Gradually my work has been moving into abstraction, which has become my inspiration for further work. What fascinates me about abstraction is the complete freedom of painting.
When creating a new painting, I never know in advance what the final work will look like, and that is the adrenaline that gives me the energy to continue working.
My work is pieced together from my current views of the world and momentary ideas that are influenced by my mood. A sip of fine wine and sensuous classical music give harmony to the mind and body by their combination, which direction and which colour the brush will take on the canvas..."

Free admission from the second courtyard of the chateau (arcade) during the chateau's opening hours: May and June - Tuesday to Sunday 10.00 - 16.00 (1 and 8 May 2023 the chateau is open, the day after the public holiday 2 and 9 May 2023 CLOSED!)
If you are interested in purchasing paintings, please contact the artist directly at +420 725 302 457.
Download the poster HERE.
Photographic or film material may be taken at events by the castle administration.
Change of programme and dates subject to change.